Damper type 3 zone Thermal shock chamber ETSP- TSD series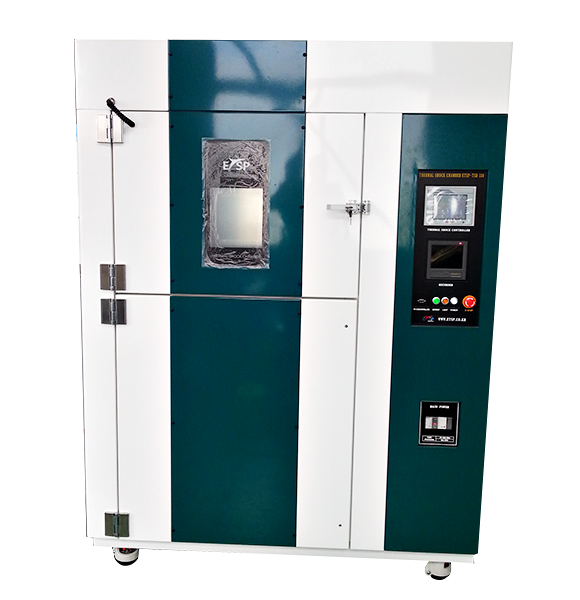 ETSP-TSD series are damper type 3 zone thermal shock test chambers, designed for thermal shock test of components or equipment, submitting them to rapid temperature changes.
Therefore they are suitable for quality control laboratories or in production plants for screening of components or equipments.
ETSP-TSD series allows users to carry out a wide range of tests necessary to determine thermal characteristics. It is possible to offer standard or customer-designed models.
Rapid cooling with low noise level
Low level of vibration
Faster temperature recovery time
Fast thermal response with continuous and linear control over the whole range
Friendly, flexible, up-to date control and management systems
Allows easy servicing and upgrades
Temperature range
Hot zone Ambient ~ 200 ℃ Cold zone -75 ~ 10 ℃
Temperature accuracy
Less than ± 0.3 ℃
Temperature heat up rate
Ambient to 200 ℃ within 45 minutes
Temperature pull down rate
Ambient to -70 ℃ within 45 minutes
Temperature recovery time
5 ~ 15 minutes
Microprocessor controller including self-diagnostics warning message function
| Model | Internal dimensions | External dimensions | Useful capatity |
| --- | --- | --- | --- |
| ETSP-TSD 50 | 300x300x300 (WxDxH) mm | 1370x1440x1955 (WxDxH) mm | 27 liters |
| ETSP-TSD 100 | 400x400x400 (WxDxH) mm | 1470x1540x2055 (WxDxH) mm | 64 liters |
| ETSP-TSD 150 | 500x500x500 (WxDxH) mm | 1570x1640x2155 (WxDxH) mm | 125 liters |
Note
Different size of chambers are available on user's demand. Chamber dimensions are subject to change due to final design and specification
Controller :

Programmable type TFT color LCD 5.7 controller (Max. 120 patterns, Max. 1,200 profile)

Refrigerant :

R404A, R23 (CFC free)

Safety devices :

Leakage breaker, circuit breaker, over heat protector, refrigerator high and low pressure switch, compressor built-in protector, pressure , Included accessories Electrical over current relay
Viewing window (heater wire including, reinforced window) and interior light
RS232/485 oven networking With control software
Spare parts kit
Chart recorder
Door lock system
Port hole and rubber plug
Customization available